Employee handbook is an important document of every organisation. It defines the organisation's key policies and procedures and outlines organisation culture. An effective employee handbook clearly communicates organisation's mission, values, policies and rules to new and existing employees.
An employee handbook provides an introduction to your organisation and the way your work. Simply put, an employee handbook explains who you are as an organisation, how you function and what you expect from your employees.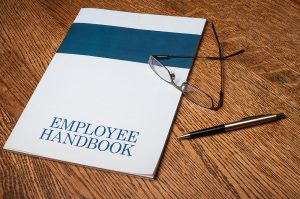 Probably the most important function of an employee handbook is setting clear expectations for both: the employer and its employees. An employee handbook should clearly communicate what is expected from the organisation's employees regarding their workplace behavior and performance and what they can expect in return.
An employee handbook should be given to new employees from the employer on their first day at work – or even earlier! A good practice is to send an employee handbook along with a welcome letter or email to new employees as a part of their onboarding process.
It is important to know that you are not legally obliged to have an employee handbook. There is no law requiring organisations of any size to have an employee handbook. However, as a best practice most organisations have an employee handbook.
So why the overwhelming majority of organisations choose to have the employee handbook?
The answer is simple: Because having an employee handbook affects many aspects of your business has a positive impact on your business bottom line.
Here are few of the important benefits of having an employee handbook:
Formalized policies
In order to write your employee handbook, you will have to clearly define your business and employee policies and procedures. Writing an employee handbook will help you formalize and organize your organisation's policies, having them all in one place.
Equality promoted
An employee handbook sends a clear message that your organisation has consistent and clear policies for all of your employees. It states publicly that the same rules apply to everyone.
Time saved
A well-written employee handbook offers answers to the most common employees' questions. By having an employee handbook, you will avoid constant questions over policies. Employees will be able to look up the answers themselves, thus saving your time.
Legal disputes prevented
Having your policies clearly laid out for all your employees serves as a legal protection in a case of potential legal disputes. An effective employee handbook clearly defines your employment relationship, thus serving as an important legal protection for your organisation.
Improved onboarding
An employee handbook is especially important for your new employees who just started working at your organisation. An employee handbook is a valuable tool in employee onboarding because it helps new employees orient and get up to speed faster.
Organisation culture outlined
An employee handbook is much more than a list of policies, rules and regulations. A great employee handbook clearly communicates your organisation's mission, vision and its values, thus outlining your organisation's culture.